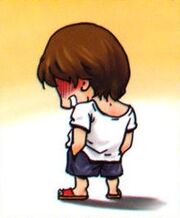 Jeong Soo Cheol (Jeong Soo-cheol, English order: Soocheol Jeong, Korean Hangul: 정수철 , Japanese: 鄭洙哲) is a manhwa and manga artist. He worked with Lim Dall Young on Freezing: Zero. Mr. Jeong is the manga/mahwa artist who drew Freezing: Zero.
External links
Edit
Community content is available under
CC-BY-SA
unless otherwise noted.