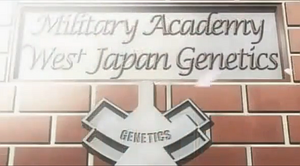 West Genetics (ウエストゼネティックス Uesto Zenetikkusu) is one of two Genetics military academies operated by the Chevalier in Japan, whose purpose is to train Pandora and Limiter soldiers to fight against the Nova.
Following the 13th Nova Clash, West Genetics has become the headquarters for Gengo Aoi's coup against the Chevalier.
Background
Edit
West Genetics was founded on April 3, 2050 at the behest of Gengo Aoi. The academy was created with a focus on developing new technology and equipment. To that end, it was selected to be the resting place of Maria Lancelot. The creation of the academy was initially met with resistance from the Chevalier, who disliked the fact that Japan alone would maintain two separate Genetics facilities, though Gengo pushed the establishment of the academy through regardless.
Every year, West Genetics holds a joint Anti-Nova training session with its other Japanese counterpart, East Genetics. In the manga, the academy is simply called West Genetics, whilst in the anime it has the formal name of Military Academy West Japan Genetics.
Notable features
Edit
Current Students
Edit
"Current Students" is a term used for cadets who are attending West Genetics at the year of 2065.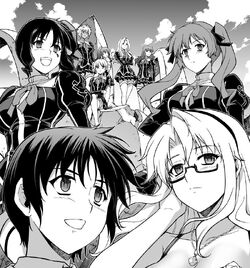 First-year Pandoras (30th Generation)
Edit
First-year Limiters (30th Generation)
Edit
Second-year Pandoras (29th Generation)
Edit
Second-year Limiters (29th Generation)
Edit
Third-year Pandoras (28th Generation)
Edit
Third-year Limiters (28th Generation)
Edit
Fourth-year Pandoras (27th Generation)
Edit
Other Students
Edit
Faculty and Staff
Edit
Platoon 13
Edit
Platoon 13 (Team 13) is the name of a permanent Anti-Nova strike-force unit based out of West Genetics that combines forces from the Valkyrie Project and the Pandora Project, representing Genetics Academies from across the globe.
Chevalier
Edit
Su-Na Lee - Platoon Commander
Valkyries
Edit
Former Students
Edit
West Genetics' oldest attending Pandora is Rana Linchen, who being 18 years old, should be a fourth-year Pandora.
Despite not being a member of its staff, Gengo Aoi was entrusted with the well fare and management of West Genetics by the Chevalier, per a condition by Gengo.
In the anime, Dr. Scarlett Ohara notes to the Evolution Pandora that West Genetics is well known for producing particularly strong Pandora, and attributes that fact to Japan being the seat of Gengo Aoi.
Community content is available under
CC-BY-SA
unless otherwise noted.